This UK/ Ireland exclusive LE release consisted of 10 silver beads, 10 coloured jade beads, a lace lock, a chain, a silver stopper and a numbered silver scroll bead, along with a certificate of authenticity and a wooden collector's box with Chinese decoration, with a cardboard protective cover. There were only 500 of these bracelets made.
Elsewhere globally, the silvers and jades were sold separately as LE sets, although many dealers split the sets.
The silvers are amongst the most sought-after of  all Trollbeads, with many collectors claiming them to be the best silvers ever produced. Here are a few with the red jade: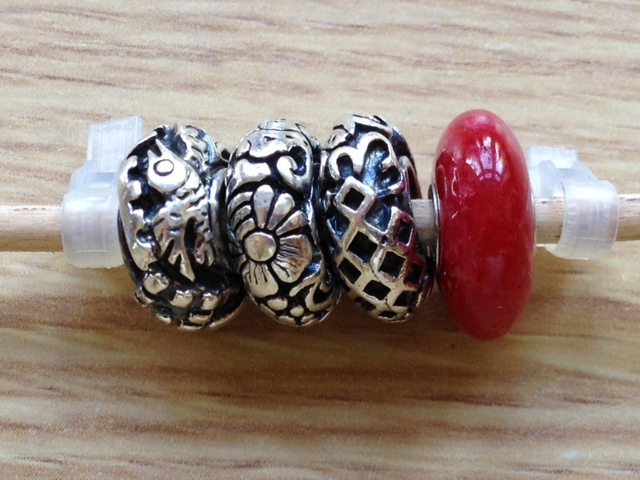 The 10 Silvers are as follows:
Birds and Flowers
Clouds and Flower
Dragon
Dragon and Phoenix
Great Wall
Pig, Chick and Badger
Rabbit, Bird and Deer
Silk Worm
Symbol of Eternity
White Snake
The 10 Jades are as follows:
Pale Yellow Jade (sometimes called Honey by collectors)
Rich Yellow Jade (sometimes called Olive Green or Lime by collectors)
Dark Blue Jade (sometimes called Turquoise by collectors as it often fades to this colour)
Pale Purple Jade (sometimes called Lavender by collectors)
Deep Purple Jade (sometimes called Magenta by collectors; this one also fades)
White Jade
Dark Green Jade (sometimes called Bright Green or Moss Green by collectors)
Pale Green Jade
Green Jade (sometimes called Mottled Green by collectors)
Vibrant Red Jade
The jades are dyed, and the colour can vary quite dramatically between stones. Some of the colours are known to fade.
The information below in italics and photo was posted by Fable Trading on 16.10.2009, when the UK bracelet was released:
 The Trollbeads Chinese Collection
Published 16/10/2009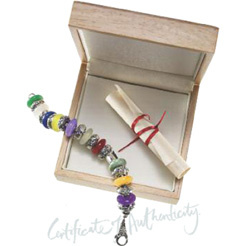 Evoking the mysteries and traditions of the Far East, Trollbeads Chinese Collection is a harmonious blend of ten exquisite jade beads and ten intricate sterling silver beads set on a silver foxtail chain with lace lock and silver stopper.
Only 500 limited edition bracelets will be sold in the UK and Ireland. Each complete bracelet bears a specially engraved numbered silver scroll and comes with a Certificate of Authenticity on a paper parchment scroll, making it a truly unique collector's item to cherish.
Specially commissioned from China and designed by six individual Chinese jewellery experts, each silver bead in this limited edition bracelet is inspired by traditional Asian philosophies.
From the wondrous Great Wall of China to the mythological Chinese Dragon and Phoenix, to the tiny silkworm, the elaborate engravings featured on each silver bead reflect the culture and philosophy of one of the world's oldest civilisations.
The enthralling silver beads are perfectly offset against the warmth of ten shades of jade beads. Revered at every level of Chinese society for many thousands of years, jade is considered to be the most beautiful of all stones and to this day is regularly used as a metaphor for virtue, strength and superiority.
The Chinese word for jade ('Yu') which stands for beauty, grace and perfection best describes the rich blend of purple, red, yellow and green jades featured in this striking collection.
Each bracelet is elegantly presented in a limited edition box engraved with the Chinese character for Jade.
For more information, or to see the Chinese Collection in person, please visit your local stockist. Price: £648.00/ €648
Trollbeads Chinese bracelet is a very special introduction or addition to Trollbeads collection. We hope it brings good fortune and happiness.
A winner from the first one-hundred customers to register their bracelet has been drawn and we hope to bring her story to you soon. If you haven't registered your bracelet yet, please contact us to enter the next draw.
And this is the information and photo from the Trollbeads on-line museum (2013):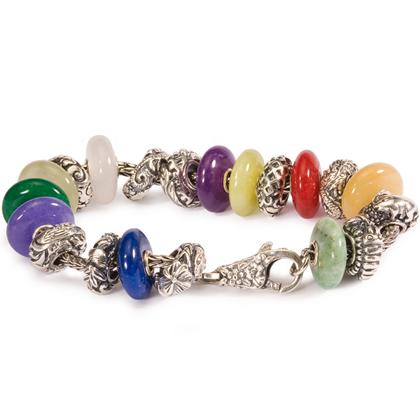 This was a Limited Edition release. Limited Editions are rare or unique beads that are only released in very small quantities and are only available in stores until sold out. 20 beads designed by Chinese designers portraying China through their own eyes.The collection includes ten silver beads portraying Chinese mythology, nature, and history and ten jade beads combining the vibrant colours of China and Chinese Jade. 
and also:
China Limited Edition Designers
Trollbeads invited six Chinese designers to show you their China.
With complete freedom to draw inspiration from any corner of Chinese culture – from folklore and mythology in the depths of Chinese history, to the vibrant colours of modern day Chinese life – these six designers have created Trollbeads China – Limited Edition.
The collection showcases just a few of the many vibrant facets of Chinese culture, from the awe inspiring Great Wall to the simplicity of the humble Silkworm, from the mythical creatures of Chinese folklore to the cheeky personalities of everyday animals.
In between, wishes for happiness, love, success, and safe journeys are interspersed with vivid shades of Jade that explode like fireworks at Chinese New Year.
Trollbeads China is a private glimpse into a rich and varied culture as seen through the eyes of the people that know it best.
Information originally collected May 2013. Updated 2014.