Although this was marketed as an LE bracelet, this was more in the nature of a UK-exclusive promotion (like the various UK starter bracelets), since all the elements were production, retired production or LEs which could be bought separately and put together by anyone.
Unlike the UK's Chinese Bracelet, which had an exclusive box, numbered silver scroll and certificate, there was nothing truly exclusive about this bracelet. It appears that Fable Trading had a large stock of the LE peacock pearl – in fact at one stage they were even put into the UK catalogue in the production section! – and they also had a lot of the retired Mexican Locks (still being offered by TB UK in 2014).
So it looks as though they simply put these items together to make this UK 35-Year Anniversary Bracelet. The photo and information below in italics was posted by Fable Trading at the time it was released:
Celebrating 35 years of Trollbeads – the Limited Edition Peacock Bracelet
Published 05/09/2011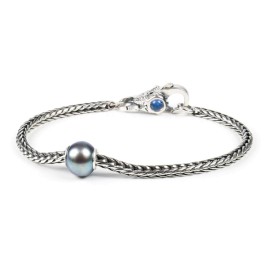 Join us in celebrating 35 years of Trollbeads with the launch of this elegant, extremely Limited Edition Peacock Bracelet, featuring a Retired Mexican Lock and a Limited Edition Peacock Pearl on a Sterling Silver foxtail chain.
Priced at £127, these limited edition bracelets are available from your local retailer while stocks last.
Information from retailers:
The Limited Edition Peacock Bracelet celebrates 35 years of Trollbeads. Bracelet features a Retired Mexican Lock 10108, Limited Edition Peacock Pearl 51706 and 17cm Sterling Silver Chain 15219. 
Created by Amanda Mac, May 2013. Updated 2014.