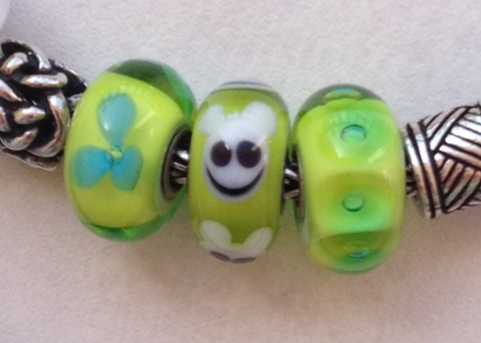 Manga. Photo by WikiBeadia.
MANGA
According to TB Universe website in 2012, the (lime green) Manga (2012 TB Universe ref: tbm 250) was released in 2009, and the Rose Manga (2012 TB Universe ref: p003) was released in 2010, both charity beads. Additionally, the lime green Manga was re-released in Japan in 2010, and again in Japan in 2011 for the Great East-Japan earthquake and Tsumani charity appeal. That is when I got my Manga, shown above.
So this is not a "UK bead" in the strict sense, designed as it was for the Japanese market in 2009. However, I thought this was worth including it in these UK pages as there was a special UK release of these rare beads. It was only the lime green Manga above which was released in the UK in June 2012 to Platinum dealers. Another batch of these lime green Mangas was released in the Netherlands and Belgium on 31/7/2012, not long after the UK release.
There is contradictory information from Fable Trading (former UK Distributor) and the TB HQ website as to whether it was originally released in 2010 or 2009.
Information from Fable Trading (2012) below in italics: 
Trollbeads UK launches Limited Edition Manga Bead.
Published 29/06/2012
This morning Trollbeads UK received a small package of rare and much sought after Trollbeads Manga charm beads.
Launched in 2010 The Manga bead celebrates the original artwork of Japanese Manga comics. It was initially sold exclusively on a Japanese TV program, to raise money towards building a pre-school for underprivileged children in Sri Lanka.
More recently, in 2011, the bead was sold in Japan in aid of the Japanese Red Cross Society to benefit victims of the earthquake and tsunami.
With such a small quantity of the Manga beads available, we've had to limit the retailers supplied with the bead to only our Platinum stores. Click here to find your nearest Platinum retailer.
The Manga beads were shipped to retailers on the 29th June, and are expected to be on sale from 30th June.
 Trollbeads Universe Museum information (accessed 2012):
Manga
This was a Limited Edition release. Limited Editions are rare or unique beads that are only released in very small quantities and are only available in stores until sold out. 
This bead celebrates the original artwork of Manga comics and was sold exclusively on a Japanese television program. Profits from the sale of the Manga bead went towards building a pre-school for underprivileged children in Sri Lanka.
Designer: Lise Aagaard
Article No.: tbm250
Release date: 2009 
ROSE MANGA – EXTRA INFORMATION
I have since discovered that there were two releases of Rose Manga in 2010, the first release with a green face, and the second with a white face. I have only ever seen the Pink/Green version in the TB museum in Copenhagen, which is where I took these photos in 2014: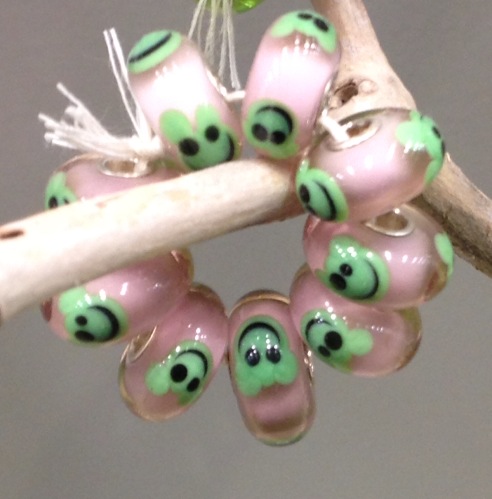 Created by Amanda Mac 10th Sept 2012. Updated 2014.