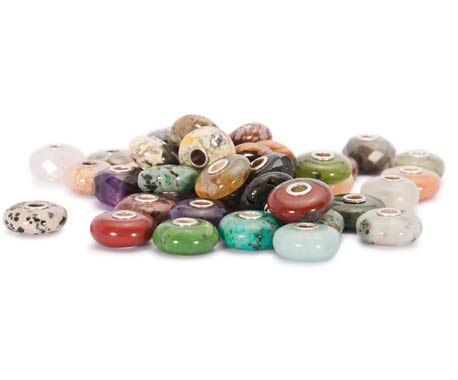 Photo by FableTrading, 2011.
These are not strictly UK-exclusive beads, but they were only released in four countries – Belgium and the Netherlands got them in January 2011 and the UK in February 2011, where they were available for purchase from Fable Trading at the February Birmingham Jewellery Fair for those UK TB dealers who attended. In October 2011, Italy also got them.
Kits of 12 stones were made up randomly from a large selection of semi-precious and precious stones. They have classic (small) cores. Only a small number of UK stores sold the limited edition beads, priced at £312 per kit or £26 per bead.
There was general confusion about identifying the stones as there was little documentation given out with the release. Eventually as they were getting so many queries, Fable Trading (UK TB distributor) put out the following list of stones on Facebook in February 2011, having asked TB HQ in Denmark for this information, but it is worth noting it is not complete:
 JASPER
PINK OPAL
GREEN FLOWER JADE
AFRICAN BLOODSTONE
WOODEN LINE JASPER
YELLOW JADE
RED GIRAFFE JASPER
AFRICAN JASPER
GREEN JADE JASPER
AMETHYST
RHYOLITE
AFRICAN WOOD JASPER
IVORY JASPER
IMPRESSION STONE
BLUE GOLD STONE
ROSE QUARTZ
NEW JADE
AMAZONITE
FOREST JASPER
NEPHRITE
ZEBRA JASPER
PAINT BRUSH JASPER
CHINA CHRYSOPRASE
RED JASPER
KAMBABA JASPER
KIWI JASPER
FOSSIL STONE
GREEN TURQUOISE
SNOWFLAKE
JASPER LAVA
GREEN ZEBRA JASPER
TIGER JASPER
FELDSPAR
BROWN WOODEN JASPER
DALMATIAN JASPER
GREEN JASPER
RED MUD JASPER
OCEAN JASPER
AFRICAN TURQUOISE
LABRADORITE
They also published the following information at the same time:
Rose Quartz opens your heart
Labradorite attracts strength and perseverance 
Obsidian helps you to let go of feelings of anger and sorrow. 
Amethyst helps you break down the barriers you build to protect yourself. 
Amazonite is also called the Hope stone because it inspires confidence and hope. 
Apart from their sparkling beauty, each individual stone has meaning and significance.
Unfortunately, this list released by Fable Trading was incomplete, and following research, I've identified another 12 stones which were in the LE Gemstones kits:
Aqua Terra Jasper
Tiger Iron Jasper
Picture Jasper
Pink Brecciated Jasper
Oak Jasper
Moonstone
Carnelian
Agate
Obsidian
Tiger's Eye
Chalcedony
Fossil Coral
There may well be others to be identified, because there was virtually no official documentation with this release, only the Fable Trading list and the photo. Many of the kits contained "normal" stones which looked like the "Fantasy Jasper" LE release of 2009 (documented on the TB Universe website).
Although most of the gemstones were smooth, to add to the confusion, some of the stones came in a variety of shapes:
Smooth
Faceted (although not fine-faceting as in the normal production gemstones)
Barrel/ Wheel
A final source of confusion is that many of the stones have alternative names, so some retailers started marketing them using different names. For example, Kiwi Jasper is also Sesame Jasper and  Lavastone is Jasper Lava.
This release isn't documented on the TB Universe site, either in the museum or in the special editions section.
2013 UPDATE
Some of the stones in the 2011 LE release were re-released globally on May 31st 2013 as a "special edition". The following information (in italics) and images are from Fable Trading. All six of these "Summer Stones" were previously released in 2011.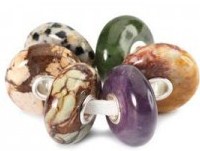 Summer Stones Kit
Ref: 80609
£138.00
It's summertime! Time to get out in nature for some sun and fresh air. It is from nature that we get these beautiful Summer Stones. With it's very own magic, nature designed the beautiful patterns and formations. Now they are here – ready to bring summer to your bracelet.
Please note: These genuine, natural materials are absolutely unique. They vary in colour and have unique inclusions and features that show their great age and natural beauty.
This kit includes the African Amethyst, Dalmatian Jasper, Canadian Jade. Zebra Jasper, Round, Rhyolite and Red Mud Jasper beads.
African Amethyst
Ref: 80609-1
£23.00
Purple is the colour of inspiration and art. The Amethyst helps us to realise that the worst limitations are those we impose upon ourselves – and it helps us to overcome these in order to grow.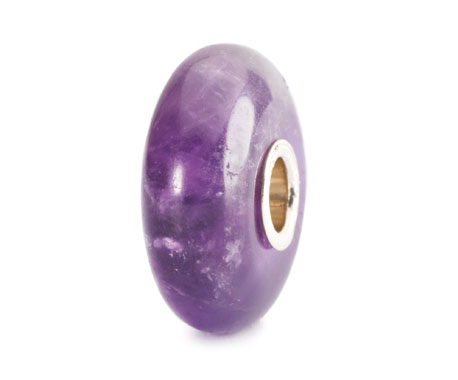 Dalmatian Jasper
Ref: 80609-2
£23.00
Dalmatian Jasper is light brown with black spots – and like the dog that shares it's name, it is a symbol of loyalty. It is a grounding stone, bringing calm and tranquilty.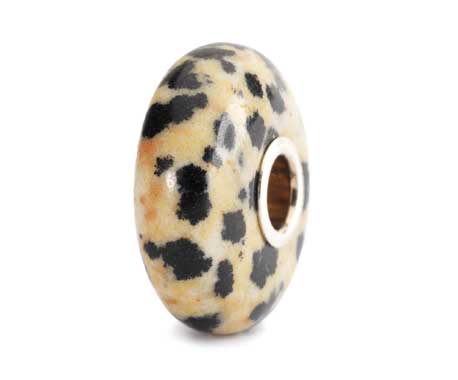 Canadian Jade
Ref: 80609-3
£23.00
Jade is said to stimlulate creativity and mental agility, and to have a balancing and harmonising effect.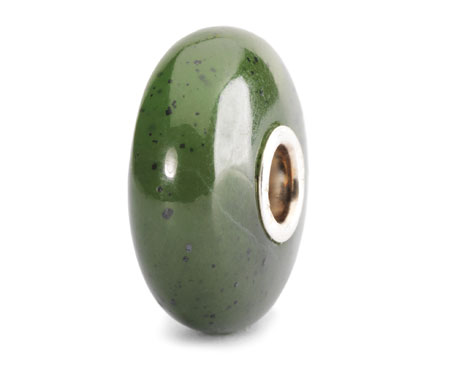 Zebra Jasper, Round
Ref: 80609-4
£23.00
A gemstone with an organic pattern. Silently witnessing the evolution of the Earth's crust over thousands of years, each bead has slowly developed its own unique patterns.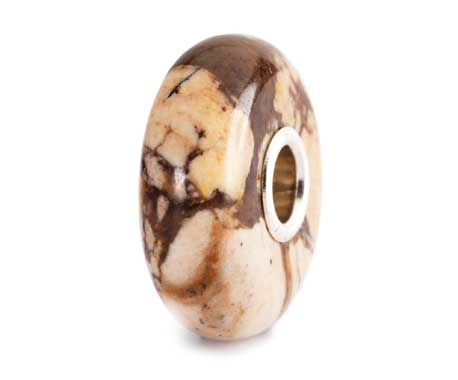 Rhyolite
Ref: 80609-5
£23.00
Rhyolite helps us dwell in the moment rather than in the past. It is said to improve our ability to deal calmly with challenging circumstances, and to make us aware of our own strength.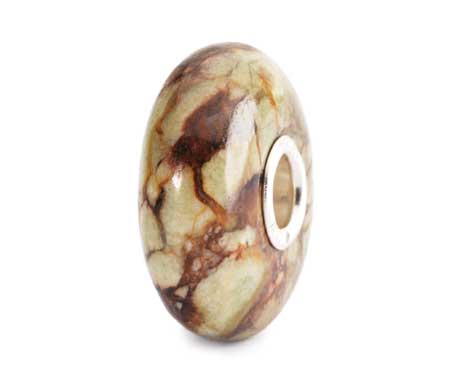 Red Mud Jasper
Ref: 80609-6
£23.00
A stone of protection, stability and strength. It balances emotions and increases your connection with the Earth. It is said to bring joy and energy into life.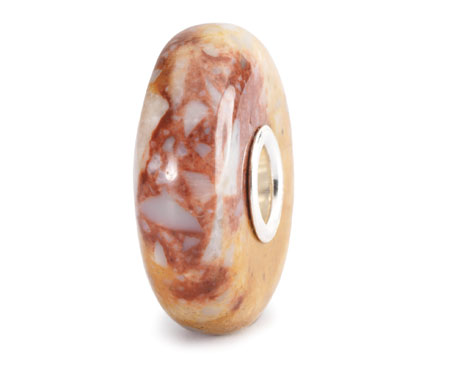 2014 UPDATE
In April 2014, there was an undocumented mini-release of Ocean Jaspers which had previously been released in 2011 (along with five new "Pastel Agates" in blue, pink, purple, green and orange). Various selected stores across the globe were sent stocks of these beads which were badged as a Limited Edition.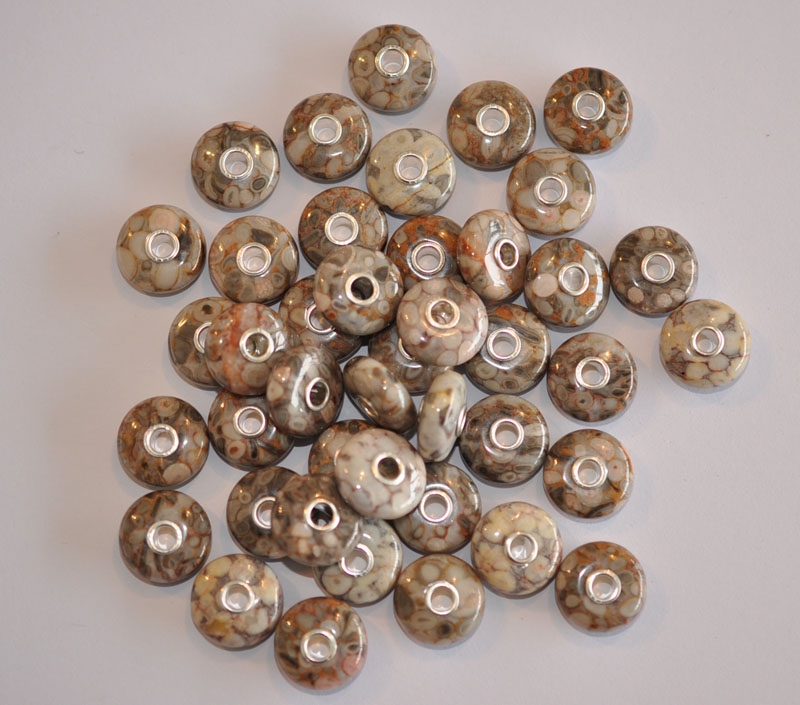 Image by Perlenodense. Please do not reproduce.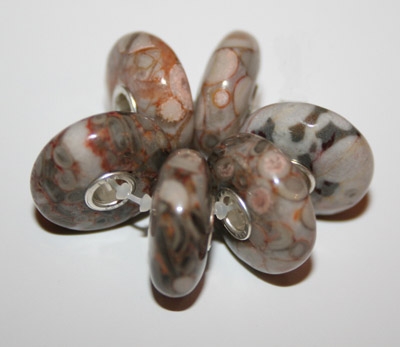 Image by Acotis. Please do not reproduce.
Amanda Mac 2011, updated 2013, updated 2014.