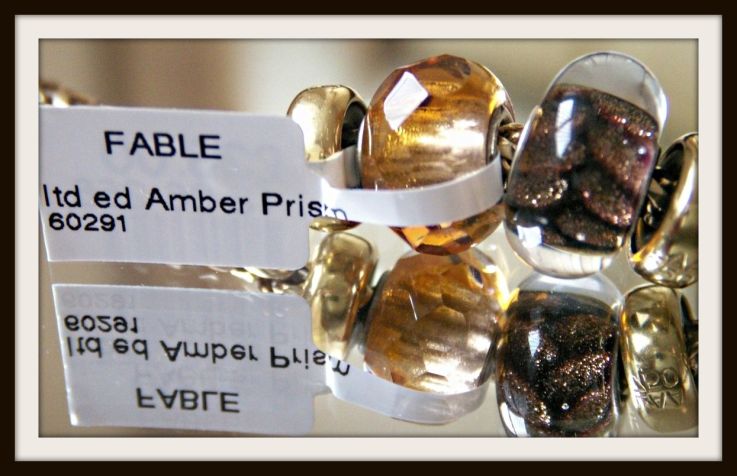 Photo by Angela Weaver. Please do not reproduce.
Also known as LE Amber Prism and UK Amber Pink Prism.
"60291 – Amber Pink Prism. 
A rich amber coloured prism bead with a hint of pink. Works really well with Honey Dew and Maple syrup."
70 of these were delivered to selected shops in the UK in late 2009. A further 20 of these were available at the first UK TB Convention in October 2010 and a similar number were at the 2nd UK TB Convention in November 2011.
They seem to be a lot rarer than the LE Blue Purple prism which was released at the same time. In fact, I have only managed to track down records of a mere 110* of them (see above). They have classic (small) cores.
Please note there is an official description and catalogue number for this bead (see above).
Update 2014: At the time of writing, this bead isn't documented on either the Trollbeads HQ Museum or Special Editions web pages, despite the fact it has a catalogue number. Perhaps this is because it is a UK Special Edition and not a global one?
*111 beads (!) – a friend of mine got one at a recent UK event which was supported by TB UK.
Amanda Mac, 28th Jan 2012. Updated 2014.