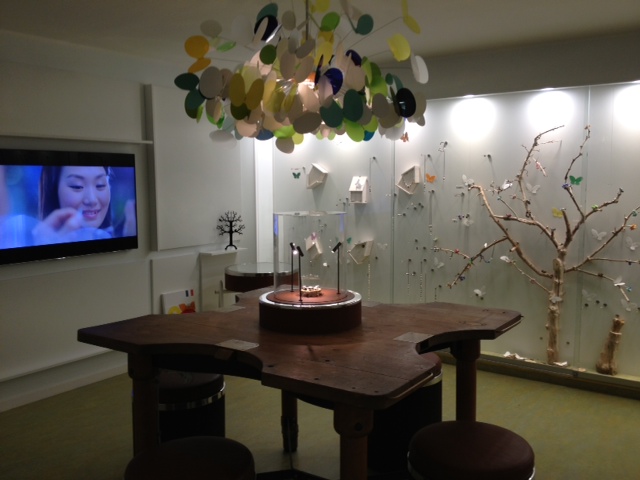 Museum, Copenhagen, October 2014.
Museum, TB Concept Store, Copenhagen
This is well worth a visit; you may well discover something you didn't know existed (like I did!)
The Museum on the official Trollbeads website is very useful, although occasionally patchy and contradictory, and with some significant omissions eg the Greyhound Lock, and certain old Trolls which are genuine but haven't made it into the Museum. (Additionally, at the time of writing in 2014, the UK and US website museums have bits of different information!).
Trollbeads HQ also put out a 30th Anniversary magazine which has some great information, and of course there is their coffee-table book, "An Icon in Jewellery Design". Some of the information in these three sources is contradictory, but overall they are very helpful. Hard to believe that when I started collecting in 2009, there wasn't an on-line museum, and collectors tried to keep each other up-to-date with their personal knowledge.
Update: Unfortunately, the on-line museum was refreshed in 2016 and a lot of useful information went. (The museum catalogue numbers were also changed at this point!) Another reason for writing WikiBeadia!
Old Catalogues, Brochures and Retailers' Catalogues
Hard copies are extremely useful, and now often the only source of information as so much has been taken down from the internet.
Trollbeads Distributors Websites
Always worth a look. The old UK Fable Trading website (sadly deleted) was particularly useful.
Also worth looking at. For example Bead Sensation has some excellent reference pages and photographs of Trollbeads. I love their page on the Chinese silvers.
I'm a big fan of the TB Forums. I've made one really close friend from each of the three Forums below, so I've a lot to thank them for! There is so much information on them. Sadly, a number of major TB Forums have been closed and deleted including the Trollbeads Society Forum, the UK-based Macrows Forum and a German Forum, and all photos and information lost. This why I write WikiBeadia!
BeadThrilled. An excellent source of information when it started in 2011, and (for me at that time) took over from Trollbeads Uncensored as the main source of scoops and news. Since the rise of the Endangered Trolls blog, it stopped getting Trollbeads scoops, but it still has lots of useful information and photos. Covers all bead brands, not just Trollbeads.
Trollbeads Gallery Forum. I love this Forum, my first one in 2009, and have made many good friends through it. It has a fantastic collection of photos (it must be the best TB photo archive in the world) and those are so easy to access and search – I use them all the time as an essential reference tool. Trollbeads is the only brand discussed. See also the UK Collectors Group Reference Pages there (written by me).
Trollbeads Society. Update: very sadly, the plug was pulled on this Forum in Spring 2016, but former members have made their own private on-line place to chat and share TB news. Originally hosted by former US retailer the Beadcage, in its heyday around 2009, it was an incredibly busy place with a wealth of photos and information from around the world.
Troll-beady Blogs/ Blogroll

(alphabetical order)
There are now tons of bead blogs out there! (Some of my favourites have been deleted). I don't get as much time as I'd like to read blogs these days – I spend a lot of time on Instagram instead – but I do try to read some of these below on a regular basis. All of them are well worth looking at:
Black Boots Long Legs. Written by Tracy, and covers a number of brands including Trollbeads and X – and more recently her own work! Nice photos too. Tracy also posts regularly on IG. Canada-based.
Cat's Corner. Written by Cathryn, and the first Trollbeads blog I ever read; it started ages ago, and covers shoes, Filofax and Trollbeads! Cat has slowed down recently but there are lots of good reviews and archives. UK-based.
Charms Addict. A popular blog written by Leann, who updates regularly, and gets scoops along with Endangered Trolls. Originally a blog about Pandora, this has expanded to include other brands, including Trollbeads. Some useful information about Limited Editions, retireds and lots of other reviews. USA-based.
Curling Stones for Lego People. Written by the lovely Mars, a fellow-trollie and glass fanatic! Lots of excellent reviews and also covers X. She does fantastic collages which are really useful for comparing collections and working out what you can afford! Mars also posts regularly on IG. UK-based.
Enchanting Trolls. Written by Elsa. Has very usefully documented a lot of the older releases, and has a well-ordered and useful archive section. Looks great, some super photography. Only covers Trollbeads and X which suits me just fine! UK-based.
Endangered Trolls. Victoria is a full-time professional blogger (the only professional bead blogger I know of!), these days writing mainly about other bead brands like Ohm, but she also covers Trollbeads. Essential reading for Trollbeads newsy updates, and useful archives too. Denmark-based.
Marthnickbeads. Another great blog, started in Sept 2015 by the lovely Martha, with beautiful photos, often featuring flowers as well as beads. Covers Trollbeads and some other brands. Martha also posts regularly on IG. Canada-based.
My Xpressions. A blog by the lovely bead fanatic, Jahndra, which covers many brands, but mainly Trollbeads, X and Pandora. Some great unboxing videos which showcase Trollbeads really well! Jahndra also posts regularly on IG. USA-based.
Shiny Things. Formerly the Trollbeads Uncensored blog. This was my essential source of information for many years, and got all the scoops, thank you! It seems to have slowed down of late but the archives are still useful. Canada-based.
Tartooful. Written by retailer Tartooful. Amazing photography and inspirational designs. Although the shop does sell other jewellery products, the blog is almost exclusively about Trollbeads and X which again, suits me just fine! Canada-based.
Trollbeads Akron. Written by major US retailer Akron.
Trollbeads Gallery Blog. Written by perhaps the ultimate trollbeads retailer, Louise Rogers, and a great source of information about new releases and other Trollbeads stuff and X from one of the main dealers of Trollbeads globally. There are a huge number of posts in her archives. USA-based.
TrollbeadsNow Blog. I've recently discovered this retailer blog which has some wonderful archived information from 2009 onwards. Canada-based.
Tons of stuff on:
Twitter

Facebook

Instagram

Pinterest
Notice
All text and photos copyright WikiBeadia/ Amanda Mac 2014-2017 unless otherwise credited. All rights reserved.
Disclaimer
I have tried to make these pages as accurate as possible, but there may be errors within them. Please contact me to correct any mistakes which you may notice.