Firstly, a big thank you to those collectors who have collected Trollstones from Day 1, and who shared their collections and knowledge with me for this Page. Other information came from UK brochures and catalogues and personal knowledge.
The first trollstones
The very first trollstones were to be found on the now retired Baby-Trolls, released early in 2008. These were being sold by February 2008 according to UK retailers' catalogues, but I am not sure of their exact release date. Here is the information from the TB HQ on-line museum (accessed 2015):
 Baby-Troll
This bead left the collection in 2012.
He is quite a naughty one, as he sits there on his trollstone, sticking his tongue out. Trollstones happen, by the way, to be so rare that only trolls know where to find them. And once they find one, they keep it safe for the rest of their lives.
Release date: 2008
Designer: Soren Nielsen
Item Number: 61721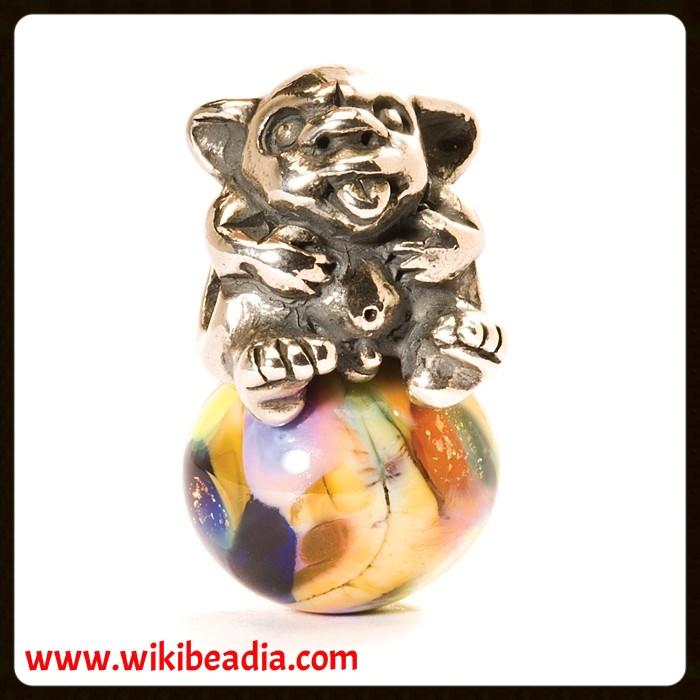 Above: Photo by Trollbeads.
Trollstone beads are released
Later that year in October, the trollstone beads were released for Christmas.  A UK brochure of the time shows this, and gives the following information:
Semi-precious trollstones
October 2008 sees the release of the Semi-precious trollstones. Created by rolling molten glass in crushed semi-precious stones, each bead takes on its own totally unique character. Semi-precious trollstones compliment the trollbeads' collection in their own inimitable way, linking and enhancing existing coloured beads.
Kits of 12 Semi-precious trollstones retail for £195.00 and £19.50 each.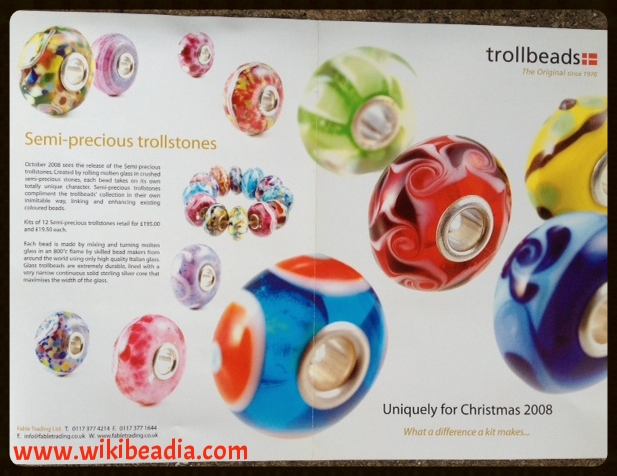 Above: Fable Trading Ltd brochure, 2008.
And this is what the TB HQ on-line museum (accessed 2015) says about them:
LE Trollstones
This was a Limited Edition release. Limited Editions are rare or unique beads which are only released in very small quantities, and which are only available in stores until sold out.
Trollstones are so rare that only trolls know where to find them. And if they find one, they keep it safe for the rest of their life.
Release date: 2008
Designer:  Lise Aagaard
Item Number: 64712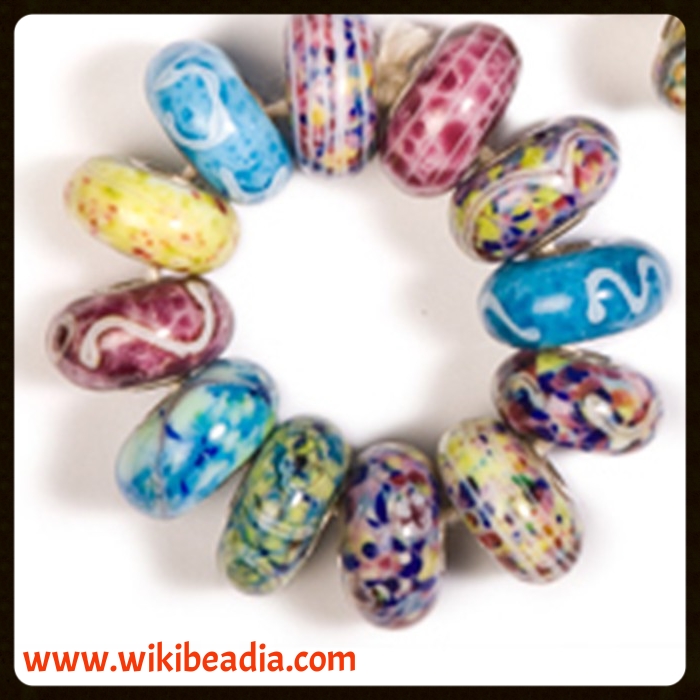 Above: Photo by Trollbeads.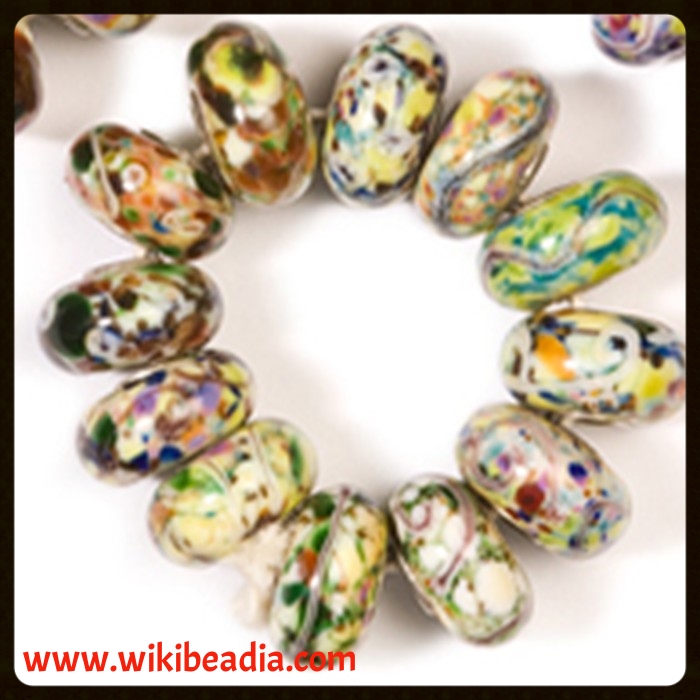 Above: Photo by Trollbeads.
Different trollstone types
Despite the name, Trollstones are glass beads, but rolled in semi-precious stones according to the UK brochure. The beads in the real-life museum in Copenhagen show quite a different design of trollstone, and perhaps these were the very first ones, partly made of lumps semi-precious stones? There is no information in the Museum, so it is difficult to tell: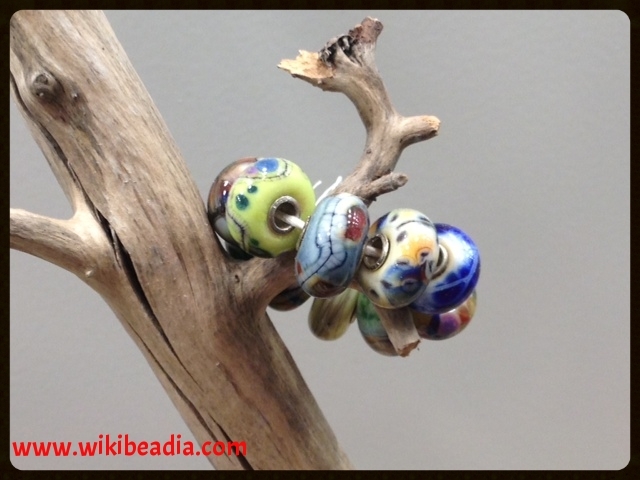 Above: Trollstones in the Museum, Copenhagen, 2014.
However the "normal" trollstones which were available to purchase don't look like this at all. There were apparently two batches of trollstones released (this was certainly the case in the UK).
Batch 1 beads – released for Christmas 2008 – looked like the two kits in the photos below. The colours were in a splatter effect, usually with small blobs of colour. Some beads were apparently made on a transulcent glass base which is sometimes visible on the sides. This photo below shows a Batch 1 trollstone with a similar-looking Crazy Lace Agate: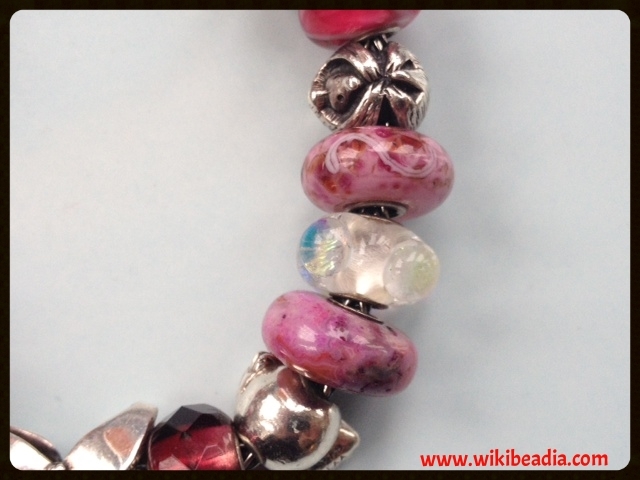 Above: Batch 1 trollstone.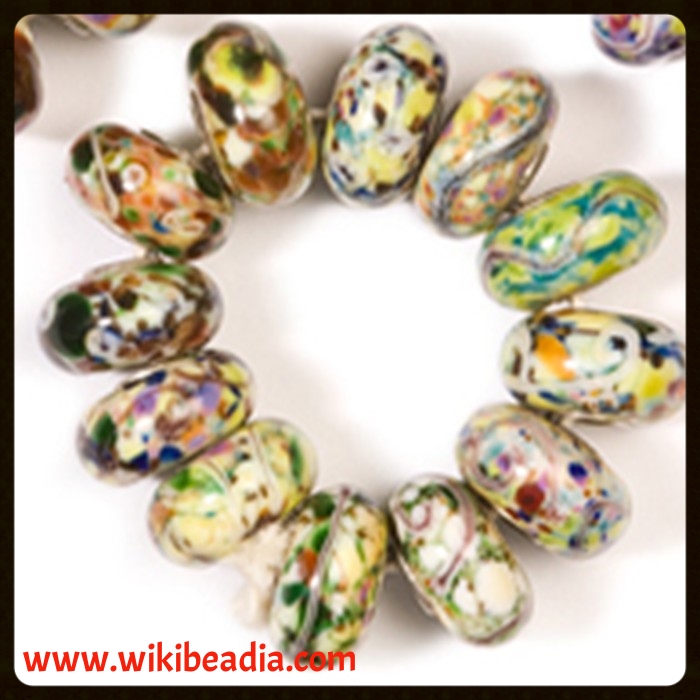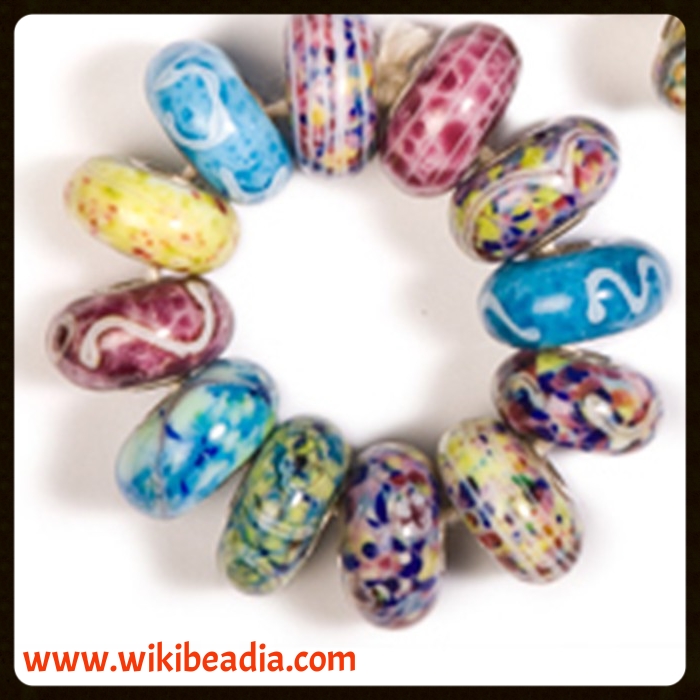 Above two photos: Kits of Batch 1 trollstones. Photos by Trollbeads.
Batch 2 – apparently "released" a year or so later (certainly by early 2010), although they just seemed to trickle out to dealers without any announcements. These beads usually had opaque bases, often cream-coloured ones. They were more "painterly" with larger splodges of colour, as below: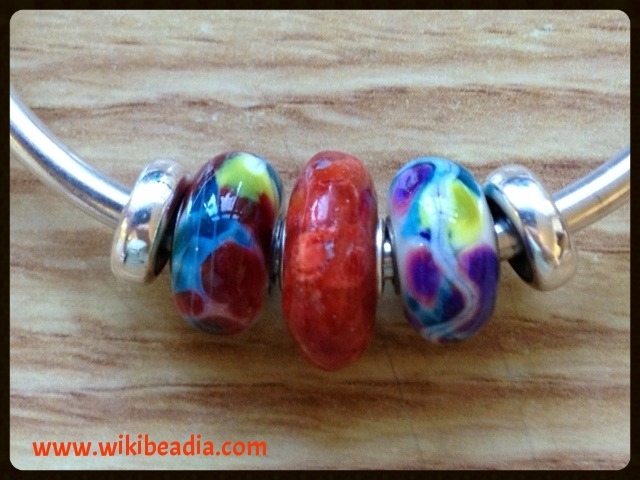 Above: Batch 2 trollstones.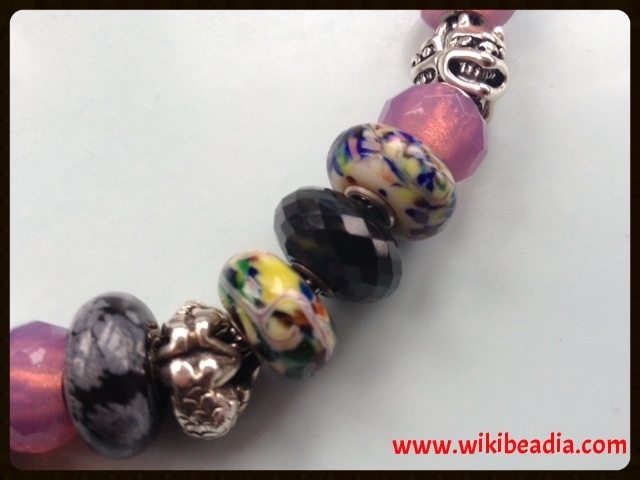 Above: More Batch 2 trollstones.
This photo below clearly shows the difference between the two batches of trollstones, although some beads can be more difficult to tell apart than these examples: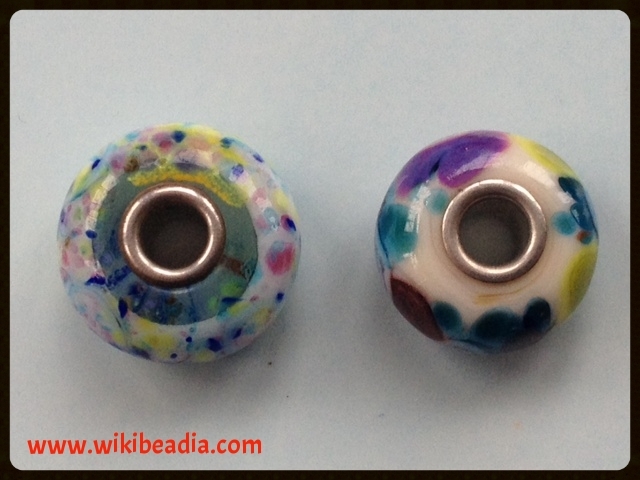 Above L-R: Batch 1 trollstone and Batch 2 trollstone.
Some eye-candy!
They are beautiful and much sought-after beads……..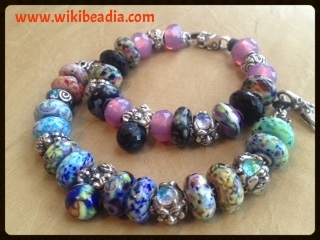 Photo by Helen Clark – Batch 1 trollbeads in foreground, Batch 2 on the pink bracelet. Please do not reproduce.