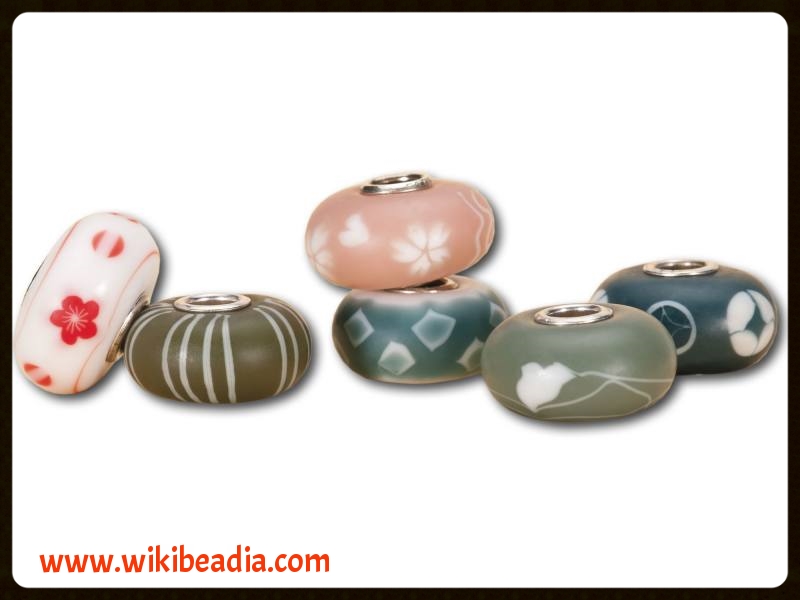 Above L-R: Ume, Seigaiha, Sakura, Shibori, Tsuru, Mon.
Image by Trollbeads.
1. Trollbeads Kimono 'Ume' Bead (Red Plum Blossom on White).
Ume – commonly known as a Japanese apricot or Chinese plum, part of the family Rosaceae.
2. Trollbeads Kimono 'Seigaiha' Bead (Olive Green with Lines).
Seigaiha – part of Japanese architecture. A wave design made of the arches of concentric circles superimposed upon one another so that only the upper portion of each set of circles is visible.
3. Trollbeads Kimono 'Sakura' Bead (Pale Pink bead with White Cherry Blossom).
Sakura – in English, this word is equivalent to the Japanese flowering cherry and is also the name for the flower on a cherry tree.
4. Trollbeads Kimono 'Shibori' Bead (White Squares on Pale Blue).
Shibori – a Japanese term for creating different designs and effects when dying/shaping/stitching clothing.
5. Trollbeads Kimono 'Tsuru' Bead (White Bird on Green/ Grey).
Tsuru is a city located in Yamanashi, Japan. It's also a symbol of good luck and long life, fidelity and peace.
6. Trollbeads Kimono 'Mon' Bead (White Circles on Dark Blue).
Mon – this was the Japanese currency up until 1870, in the Muromachi period.

Image by Trollbeads.